Avengers: Endgame review – a giddily cathartic final battle
The climactic instalment of the blockbuster series is a galvanising victory lap and the ultimate love letter to superfans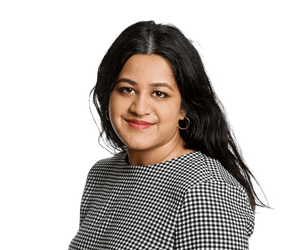 Simran Hans
@heavier_things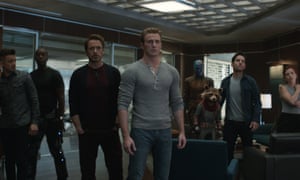 It's only taken 11 years and 22 feature-length films, but the end of Marvel's Avengers series is in sight. Sceptics might feel assailed by the 181-minute running time; a three-hour movie is the ultimate act of fan service. A pleasant surprise, then, those three hours zip by at lightspeed
.
To recap: in 2018's Avengers: Infinity War, evil Thanos (Josh Brolin) seized control of all six "infinity stones", wiping out 50% of the Marvel Cinematic Universe and erasing many beloved characters from existence. Endgamepicks up in the aftermath, skipping ahead five years. Grief has softened some of the Avengers (Chris Hemsworth's Thor has acquired a drinking problem and a beer belly) and calcified others (Jeremy Renner's Hawkeye has taken up street fighting with petty criminals).
Franchise logic dictates that, in its final instalment, at least some of the vanished superheroes will return, but screenwriters Christopher Markus and Stephen McFeely are forced to figure out how to pull this off without simply pressing a giant reset button. The opportunity to rewrite history via a time machine (not a spoiler, but an inevitability) brings the gang back together again for one last mission. En route, we get flashbacks to earlier outings (2012's The Avengers and 2013's Thor: Dark World, for example); these bits are, quite transparently, for the superfans, but on balance, the film is more satisfying than an assemblage of meme-able moments designed to please the already initiated
.
The variables of human emotion and fallible judgment are what drive the series; each character is haunted by their own, specific existential quandary. Who is Captain America (Chris Evans), once his optimism has been worn down? What of Tony Stark's (Robert Downey Jr) cold logic now he is a father? Will Nebula's (Karen Gillan) inherent humanity override her tampered wiring?
The final battle is giddily cathartic, but the catharsis arises from prioritising character development over plot and spectacle. This, I imagine, will be the Avengers' legacy.
Since you're here…
… we have a small favour to ask. More people around the world are reading The Guardian's independent, investigative journalism than ever before. We've now been funded by over one million readers. And unlike many news organisations, we have chosen an approach that allows us to keep our journalism open to all. We believe that each one of us deserves access to accurate information with integrity at its heart.
The Guardian is editorially independent, meaning we set our own agenda. Our journalism is free from commercial bias and not influenced by billionaire owners, politicians or shareholders. No one edits our editor. No one steers our opinion. This is important as it enables us to give a voice to those less heard, challenge the powerful and hold them to account. It's what makes us different to so many others in the media, at a time when factual, honest reporting is critical.
Every contribution we receive from readers like you, big or small, goes directly into funding our journalism. This support enables us to keep working as we do – but we must maintain and build on it for every year to come